Stand Out In The Crowd With 5 Of These Choicest Designer Partywears
Though we have a wardrobe full of expensive and stylish clothes but every time we have to dress up for a party, we end up in a big dilemma. We browse through each and every dress, but in the end, we feel not wearing any. Have you ever faced this challenge while dressing up for a party? May be you have faced!
Dressing up for an evening party is quite a big task because you want to look your best, stand out in the crowd and flaunt your style. For a fashionista, looking perfect for a party requires a lot of planning and perfection. First and foremost is choosing the right attire for the occasion. Depending on the type of event, one can opt for ethnic, Indo- western or completely western outfits.
In these categories too, there are a number of options available for designer party wears. It is advisable to choose according to your body shape, style and the occasion you are attending. This is the reason fashion freaks have a number of choices ready in their closet. For parties, you can go with heavily embroidered gorgeous sarees, designer gowns, Bollywood style dresses, western collection etc.
Just to make things a bit easier for you, we give you 5 choices of partywear dresses that will help you to decide.
Sarees: You can choose from designer and Bollywood style sarees with a lot of shimmer and shine work for evening parties. You can try something in georgette or with zari work. You can also opt for an embroidered blouse with a net saree. The trending blouses like tube blouse, off shoulder, sheer neck and more will look great on types of sarees.
Designer Gowns: Designer gowns are one of the best partywear and they can be made to fit any body shape. Designer gowns can make you look as stunning as Bollywood celebrities. There are a variety of Bollywood style gowns that are available with different options in neckline, fabric and design. One can choose a trending designer gown and don it with heels and a clutch.
Western Dresses: Mostly western dresses are timeless and effortless in nature that offer you look your best while keeping your comfort level up. As for a party, one can go for a glittered sheath or bodycon dress to become the talk of the town for her elegant yet sassy look.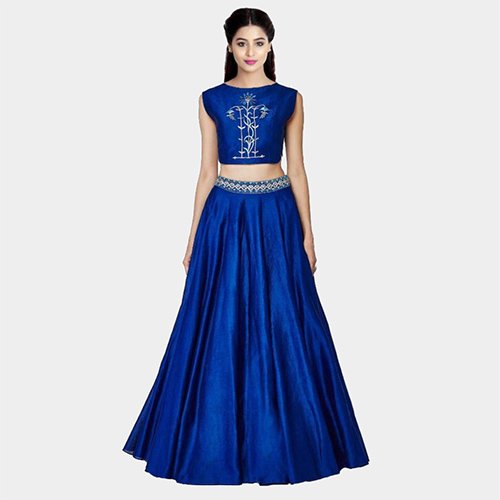 Anarkali Suits: Anarkalis are just perfect for evening parties, especially for functions like wedding, festive seasons, birthdays and etc. Choose a floor length or even a short one, but make sure you pair it with the right lower. Dazzle-it with the right accessories. Anarkalis go well with almost every body type, so make sure you have one, which perfectly fits you.
Partywear Skirts: You can also wear a skirt in a party if you can carry it well. Make sure you pair it up with the right kind of top. Both long and short skirts can be worn with matching accessories. You can pair a long skirt with a full sleeved heavily embroidered fitting top like a ghagra choli. Else if a short skirt fits the occasion, make sure to find the perfect top (choose the neckline wisely) and high heels.
So, next time if you will be hunting for a partywear, keep the suggestions handy and get ready to slay in style. These options might be a bit expensive because of their entire look. But if you loved them then don't go back to buy them.